Google Ad Manager is the New DoubleClick
Since the acquisition of DoubleClick, Google has been offering its 'ad serving' technology to millions of publishers and remained as the leader in the digital advertising space despite its issues with the publishing industry.
Last week, the company announced that the monetization products served to the publishers will be rebranded as 'Google Ad Manager'.
Google Ad Manager integrates DoubleClick for Publishers (DFP) and Google's Ad Exchange (AdX) into a single platform. Besides, the company also rebranded its Google Adwords as Google Ads and 'DoubleClick for Advertisers and Google Analytics 360' as Google Marketing Platform.
Transparency Vs Social Media Networks
'Transparency' is easily one of the most pressing issues in digital advertising. And, with the fresh privacy laws (GDPR, California Privacy Act, etc.) it becomes harder for publishers, adtech vendors, and especially, the social media networks.
However, to keep their status afloat, social media networks are releasing new tools and features to the end-users. Let's start with Twitter.
1. Twitter – Ads Transparency Centre
Last week, Twitter launched its Ads Transparency Centre which let anyone know what ads are being promoted on the network. You can search for any advertisers/twitter account and see what are the ads they are running and the tweets they've been promoting for the last 7 days.
For political accounts, you can see additional information such as billing info, ad impressions, and demographic targeting.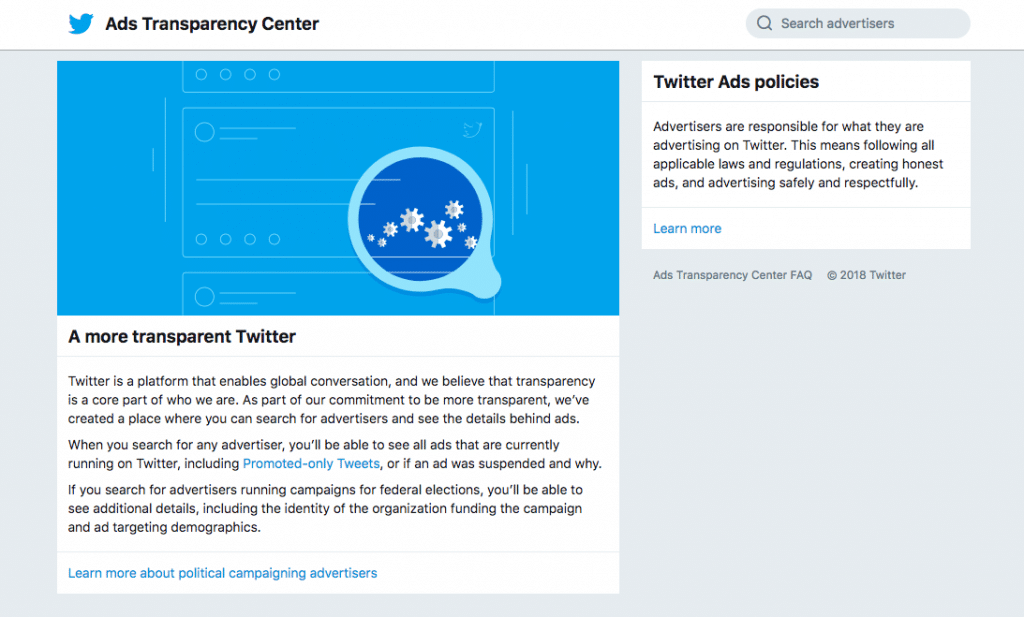 Now, the giant.
2. Facebook – View Ads
Facebook is reportedly launching a raft of ad transparency tools in the following weeks. It has already unveiled a new feature to let any users see what ads are being promoted by the account.
"We're providing much more transparency than any other advertising platform"
– Sheryl Sandberg, COO, Facebook.
In addition, 'View Ads' an option to view all the ads run by the page on Facebook, Messenger, and Instagram will be releasing this week. The company said it plans to disclose more details for political ads such as the total amount spent, targeted demographics, and impressions delivered.
Take away: Transparency earns you trust and more legible advertisers. Of course, a few advertisers might drop off/hesitate to run ads at first. Eventually, they'll pick up.
Amazon is shutting down its Ad Network soon
By the end of September, Amazon is retiring its ad network 'CPM Ads'. Launched in 2014, CPM Ads allow publishers to run display ads on their websites on Cost-Per-Impression (CPM) basis.
Why?
There's no official announcement yet. But we think it might be because of the two reasons.
CPM Ads is being used by many publishers across the globe, but the sites aren't larger. And, the ad network didn't grow as big as expected.

Amazon is planning to push the publishers to its other (bigger) Ad platforms Unified Ad Marketplace (UAM) and Native Shopping Ads. In fact, it has recommended publishers to shift to either of two, if qualified.
"We have been very happy with the current CPM Ads and we significantly depend on the program"
– Ajay Gallewale, founder of Maayboli.
Where are we headed?
As we all know, Amazon is the one to watch in digital advertising space and it is expected to chip away the duopoly.
Granted. When compared to the duopoly's share, Amazon might take a few years to get the job done. But, the expansion of Amazon into the digital advertising makes its root deepen every day. For instance, Bloomberg reported that the Amazon may launch a retargeting ad network and release a bunch of search-related ad products on its platform soon.
Snapchat's Commerce for Creators
Snapchat can now allow influencers to sell products on its platform and users aren't needed to leave the application (not even once). It kicks off the feature with the help of influencer Kylie Jenner.
Yes, the same influencer who wiped out $1.6 billion market cap from Snap Inc a few months ago.
Commerce for Creators
Snapchat hopes to woo creators and (soon, publishers) with the launch. Rival Instagram is adding more users (it recently crossed 1 billion MAU) and releasing new features (IGTV) to attract creators and users which, obviously compels the 'stories' creator to come up with a counter.
Is it for you?
It's still in beta and not all the creator have their own line of products like Jenner. However, Snap is expected to launch a more suitable commerce feature for publishers soon.
Weekly Wisdom
The industry will continue to demand easy-to-use or simple solutions, where everything (from creating to customizing to scaling to reporting) can be done.

'Transparency' isn't going anywhere and we need to prepare for more privacy laws. Remember to partner with the

right vendor

.

Social Media Platforms are growing into an only home for users. As a publisher, you need to evolve the way you present content and diversify the ad products on your website(s).
Want to receive the roundup directly to your inbox? Subscribe to our newsletter. One email per week is all you need to keep up with the industry.