Latest Covid-19 Trends For Publishers
The Influx of Online Shopping
The Coronavirus has upended all the plans over the globe in the last six months. But there is one thing that has been in a pretty good spot – eCommerce. Between conforming to the social-distancing guidelines and shut-down storefronts, sales in some verticals are surprisingly way up than expected during the period.
As phased-in reopenings of schools and colleges have started in numerous countries, the National Retail Federation has conducted a survey to observe the spending by the households. According to the results, the back-to-school spending with school-aged children is expected to increase by 29%, whereas back-to-college spending is expected to rise by 24%.
Image Source – National Retail Federation
In the publishing industry, Meredith, the parent company of various top magazines including Time Inc. and Conde Nast has seen an uptick in the school gross sales by 380% Y-O-Y for July.
Another publisher, Popsugar, which has built a custom shoppable guide for back-to-school backpacking, has observed that the eCommerce product has outpaced the affiliate revenue targets set for its partners.
"We're seeing major growth. While apparel is normally the top product category for Popsugar's back to school season, school supplies have outpaced clothes so far."
-Lisa Sugar, Co-founder, Popsugar (Src)
A Look at The Advertising Market
Going forward, the US advertising market seems to be the largest across worldwide. eMarketer highlights US total media ad spending will total $224.79 billion in 2020. China has a slow recovery and entered the rankings at No. 2, followed by Japan at No. 3.
On the other hand, India that has been fastest-growing in the advertising markets will have to suffer from the repercussions of the Covid-19. Along with India, the ad spending growth in Mexico, Brazil, and Indonesia will be slow in 2020 due to the challenging pandemic situation.
It's no surprise that ad spending has collapsed, but eMarketer's latest report states that India will reclaim its position by 2024. Not only this, but the country will also become the world's fastest-growing ad market by the end of 2021 with a growth of 30.5%.
Takeaway:
eCommerce is an imperative factor in economic downfall, and publishers need to learn from these scenarios to sustain growth and recoup the growth. Now is the time to bet on eCommerce and make small changes in your strategies to grab the revenue opportunities. So, keep yourself updated with the trends, create the content that is relevant to your audience, and distribute them across your digital properties.
Alphabet's Flattened Ad Revenue
For the past few months, prominent digital media companies had reported a double-digit decline in ad revenue. The pullback of advertising spend has equally impacted the media behemoths Google and Facebook.
In a recent article, AdExchanger revealed that Alphabet, the parent company of Google, has witnessed a decline of 22% in Q2, 2020. In the last quarter, the revenue totaled $38.3 billion, a 2% Y-O-Y decline than the previous year.
Despite the fact of getting a significant hit by the Coronavirus, Google's robust advertising business has reportedly shown steady improvement throughout the last quarter. However, the network's advertising business has declined by 10% and totaled $21.3 billion.
Though Google cited a loss in ad dollars, the company has seen growth in the Google Cloud business and YouTube subscriptions as well as revenue generated by Google Play Store. According to Google's Spokesperson, all of these helped the company to balance the revenue decline.
 "Our strength comes from our diverse categories."
-Sundar Pichai, CEO, Alphabet (Src)
Insider's Audience-Data Tool
The impending death of cookies has led the publishers to launch their own ad targeting tools. Recently, Insider Inc. announced the launch of a new audience-data platform, SAGA. After testing for a few months with its 20 different clients, the publisher has finally launched the product for all of the partners.
"We are excited to offer SÁGA to our partners. Mobile, scalable, and global, SÁGA is a unique offering that sheds light on discrete audiences without relying on personally identifiable information."
-Insider Inc. (Src)
SAGA which is a suite of tools has three primary capabilities:
SAGA Audience that provides the first-party data to the marketers to help them connect with relevant audiences,

SAGA Inform that shapes the ad campaigns based on the content that resonates with the audience, and

SAGA Insights that provides valuable information and insights about consumer preferences to help marketers create a robust campaign.
One of the spokespeople from Insider Inc. shared that SAGA collects various data points such as the stories most-clicked by readers, frequency to return to a page, users' favorite authors, and more.
"Someone isn't just an IT decision-maker. They're also a parent, a pet owner and they're interested in health and fitness. Once you understand the whole persona, you're able to create campaigns that will really resonate with them."
-Jana Meron, SVP of Programmatic and Data Strategy, Insider (Src)
Insider Inc. is one of the publishers who has been working towards building first-party data tools over the last two years. And SAGA is an example of how Insider Inc. is preparing itself for a cookie-less advertising ecosystem by collecting behavioral data of its 90M+ monthly unique visitors.
Takeaway:
Nobody can give assurance whether the publisher-created first-party data tool will save the ad-tech or not. But if you have been following the recent news about third-party cookie alternatives, you might have already jumped the bandwagon to find a way to help your advertisers. If not, then it is high time to start knowing at least your (first-party) audience.  
Google's "About This Ad" Feature
Google has always wanted the users to trust it with more of their online data while giving them promises to give them a more transparent ad experience and control over how ads are delivered. As Google's advertising platform continues to grow, the company has recently introduced a new feature "About This Ad" to help users know who is serving the ad and understand why they are serving it.
Image source – Google Blog
According to Google, there are more than 15M+ users who interact with "Why This Ad" in order to know more about the reason behind seeing the ad and how they can control it.
So, to provide detailed information about the ad, About This Ad, will display the name of verified advertisers behind each ad and it will be initially available for display ads bought through Google Display & Video 360 and Google Ads. Though the new feature has been rolled out, Google states there will be some improvements to it in the future.
"We'll continue to improve this extension based on feedback from users, and over time we expect to offer additional disclosures about ads, as well as introduce controls."
-Mike Schulman, Vice President of Ads Privacy and Safety, Google (Src)
Uncertainty Around Apple's iOS 14
The announcement from Apple in the last month in regards to the required opt-in for the ID for Advertisers (IDFA) has made everyone curious about its impact. The IDFA allows the ad-tech partners to track the users' interactions and behavior tied to a device.
But the upcoming iOS 14 of Apple will make the IDFA as an opt-in feature for the users, restricting the advertisers to target them by default. Not only this, but the update will also require the app developers, brands, and companies to disclose the data they are collecting and sharing with the third-parties. 
To foresee the future and share the concerns raised in the ad-tech industry, IAB Europe and IAB Tech Lab has written an open letter to Tim Cook, CEO of Apple in the last week. Here's what IAB Tech Lab suggested to Apple: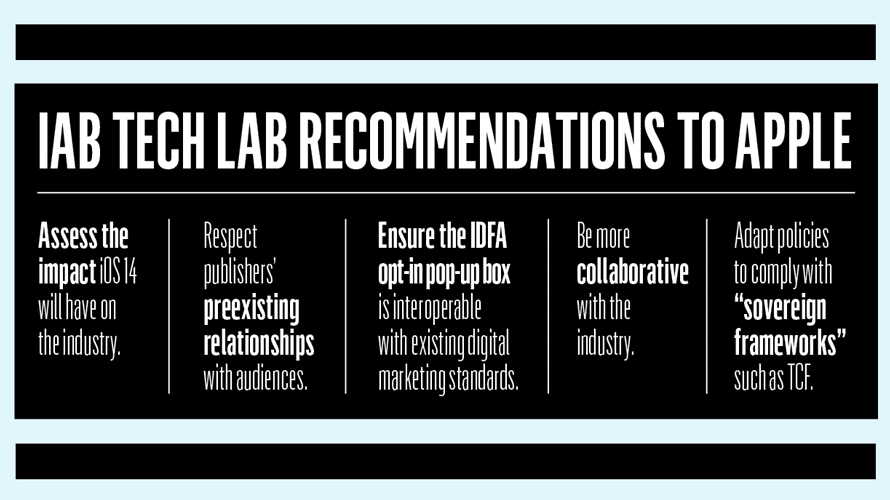 Image Source – AdAge
Amidst the uncertainty, various mobile measurement providers have started to identify the opportunities. Kochava, an in-app mobile measurement provider, has already introduced a new alternative, IdentityLocker which doesn't rely on third-party cookies and static identifiers like IDFA.
"It works by giving actor-specific identifiers, which means everything is a token, not a static ID."
-Charles Manning, Kochava (Src)
Takeaway:
There is no mistake that it is a great move to protect users' privacy, but it is going to be a huge problem for the massive advertising industry especially for app-publishers due to the higher contribution to worldwide consumer spending.
Considering the users' base and contribution, this will be a big change for all. However, the industry still has some time and the proposal is under the scrutiny of Apple. For the time being, we can wait for Apple's response to the recommendations given by IAB Tech Lab.
Moments That Matter
A Chief Privacy Officer's Take On The Google Antitrust Case, CCPA And IDFA – AdExchanger
IAB Tech Lab Releases SafeFrame 2.0 Secure Ad Container for Public Comment – PRNewswire
Investments in journalism, algorithms have Axel Springer's five-year-old aggregator app Upday up over 30% in ad revenue – Digiday