Google's New Ad Settings lets you personalize Ads across the web.
Last Thursday, Google launched an improved version of Ad Settings to put users in charge of their Ad Personalization. The new ad settings will let Google users run a set of options like turning off personalization, opting out of specific interests, etc.
"This information helps make ads more relevant and useful to you. However, in the new Ad Settings, if you no longer want us to tailor your ads based on one of these factors you can choose to turn it off."
The changes users make with the Ad Setting will influence the ads powered by Google Ad Network.
So, how does it look?
In one word, understandable. Remember what we said about Google's new privacy policy update?
Take away: Google is working its face off to show itself as the reliable digital advertising vendor (read one who cares about users). Besides, Digiday reported that the company is also helping publishers to find a sweet spot. 
IAB Tech Lab releases VAST 4.1
eMarketer estimates that the ranks of US digital video viewers will grow from 221.8 million to 239.2 million between 2017 and 2021. And, programmatic ad serving is expected to increase faster than search. So, it is clear that the programmatic video ad serving is set to soar.
However, both sell-side and buy-side weren't satisfied with the current video ad serving template and specifications as it has its drawbacks.
"Once VAST 4.1 is adopted in the marketplace, we'll see dramatically improved digital video and audio operations for buyers, sellers, and technical teams, making way for even greater growth for video"
VAST 4.1 will address key issues and provide significant improvements on Video Ad Serving Template, which is currently used by the adtech. Noticeably,
VAST 4.1 standardizes the ad requests with the help of macros and this, in turn, will help the vendors and sellers to propel the format more easily.
AdServingID has been included to simplify the comparison of impressions across the various systems, thus, facilitating better measurement.
VAST Interactive Templates has been introduced by the Tech Lab to standardize interactive ads.

Closed captioning feature.

No flash usage in ads and non-linear ads are depreciated with the update.
Besides, it supports Open Measurement to enable better verification. In case, you're interested here's the complete guidance.
$314 Million in 2017
According to IAB & PwC Research, U.S. Podcast Ad Revenues Reached Landmark $314 Million in 2017, Marking 86% Growth Year-over-Year. The study also predicts that the podcasting ad revenue will hit $659 million by the year 2020.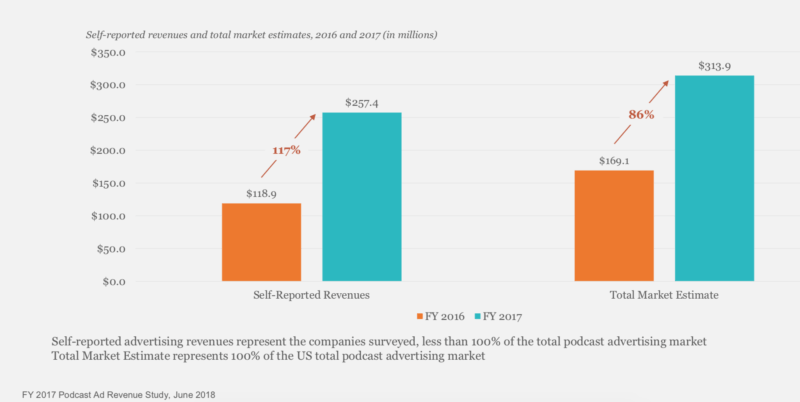 Key Findings:
Key findings of the study include,
1. Direct response ads are responsible for the majority of the ad revenue but dropped in total revenue share from 73 percent to 64.2 percent.
2. Branded content and brand awareness ads had an impressive year. In addition, Integrated ads are found to be popular and keep growing across the podcasting community. It has raised from 43.6 percent in 2016 to 58.3 percent in 2017.
Two-thirds of the ads deployed last year were host-read.
3. Of 14 podcast genres measured, Arts and Entertainment generated the most revenue (17 percent), technology closed in at 2nd spot (15 percent), and News (13 percent) and Business (11 percent) followed after. 
4. Self-reported revenues have increased by 275 percent from 2015.
Reddit brings Autoplay Ads to desktop and mobile
Gone are the days where Reddit teams were interested to close more ad sales. Now, they're committed to it. Don't take our words; Reddit announced that it will be running auto-playing video ads on its desktop and mobile users starting this week.
"Reddit has remarkable product-market fit on the consumer side and we've not layered a business on top of it. There aren't a lot of opportunities that tend to come around like that."
– VP of Brand Partnerships Zubair Jandali.
The community site which has over 330 million active users hasn't done much on advertising part in the last decade as its users are more vocal. However, it seems to be the story of the past. As we all know, Reddit recently introduced native video ads and this week, it's allowing the auto-play feature to woo advertisers.
Of course, redditors can turn off the feature anytime.  
Take away: It's not just Reddit. Every social network is pivoting to video advertising. Viewers retain 95% of a message when they watch it in a video, compared to 10% when reading it in the text (Source). So, if you really want to scale up your programmatic ad revenue, start considering video ads.
Facebook's Next Round of Criticism
Facebook's new policy update is set to flag 'Publishers' Content (related to elections)' as 'Political Ads' and this has raised some serious concerns among the publishers.
Facebook's latest policy update says that the political content boosted by publishers will be treated as same as the ads run by political parties and candidates.
"We see your policy as another step toward furthering a false and dangerous narrative that blurs the lines between real reporting from the professional media and propaganda"
– Publishers.
Disappointed with the policy, 
Seven trade groups representing media publishers and broadcasting organizations including The New York Times, BBC.com, and 21st Century Fox sent a letter to Zuckerberg on June 11 to rebuke the policy update.
But, why Facebook is updating its policy now? 
It all started when the social media giant faced severe criticism about how it let Russian operatives to boost fake posts to influence the election results of the US two years ago. Since then Facebook promised to work with publishers (and others) to devise better policy measures and controls. Honestly, it's been on due for a long time. 
Any responses to the letter?
"We're working to treat advertised news content differently in the archive, which addresses our news partners' fundamental concern"
– Campbell Brown, Facebook's head of global news partnerships.
Take away: It's the part of the play. We've emphasized how the company has been optimizing its social network for the last few months to better the user experience. So, expect to see more updates and iterations from the Facebook. After all, satisfying the users, publishers, advertisers, and the governments isn't an easy job and it takes time.
Interested in receiving the roundups to your inbox? Just subscribe to our weekly newsletter.