Payment Delays are Here
Just as we expected, the coronavirus pandemic has brought payment delays in the adtech. The advertisers have started extending the payment dates. As we are aware of the domino effect that can be caused due to the sequential liability in adtech, publishers can expect a delay in the payments from their monetization partners.
A recent report by Digiday unveils major buyers postponing the payments. The pharmaceutical giant with a valuation of $212.7 billion has increased its payment duration from 60 to 120 days. TK Maxx has moved from 30 days to 120 days, Bijenkorf has moved from 90 days to 150 days, both the companies operate in the retail sector.
What should publishers do?
We have said earlier and we will say it again that publishers should be careful about whom they are partnering with. We have also talked about insurance solutions being provided by companies like OpenX and TripleLift. Facebook and Google are working on financial support for news publishers. The New York Times is also running a campaign to help local publishers. Journalism Emergency Funds are being created worldwide. And there are many more measures being taken by the industry to save publishers. Keep yourself updated, experiment, and stick to the ones that work out for you. 
Takeaway:
If the trend continues long enough then the smaller intermediaries in the adtech ecosystem will be at the highest risk. Companies have already started layoffs and furloughs to survive the crisis. But if the intermediaries go out of business then the publishers can lose the money owed to them by such intermediaries. Smaller companies couldn't possibly force media buyers because breaking relationships with such buyers will translate to lower income in the long term.
COVID-19 Fallout: What Publishers are Up to?
The coronavirus has disrupted all the metrics for publishers. Before it started, nobody could have expected higher traffic and lower revenue at the same time. Similarly, there have been so many changes in various metrics that every publisher is puzzled with what to do and what not to do. Here are some numbers that were observed in the industry that can help you formulate a better strategy for the crisis.
Digiday's Research on Ad Spendings
Digiday surveyed 100 executives from the retail, fashion, and beauty industries about changes they've made to their marketing strategies. The survey found that online display is one of the top channels where the brands will reduce spending or stop advertising permanently.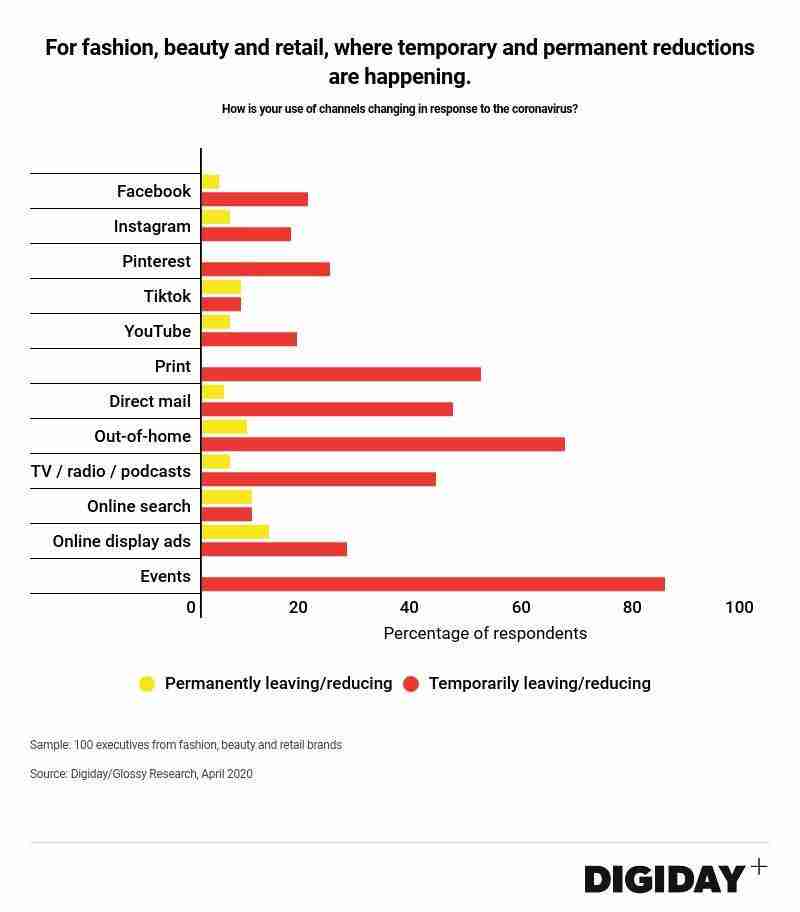 SimilarWeb's report on News Category
SimilarWeb analyzed hundreds of Global news sites to find out the fastest-growing news category during the coronavirus crisis. It was discovered that people sought business and finance news the most.
Chart by Axios
The fastest growing finance and business sites were oilprice.com, barrons.com, marketwatch.com, investing.com, money.cnn.com, fool.com (Motley Fool), ft.com, cnbc.com, and wsj.com.
Cost of Subscriber Acquisition
Since the pandemic has started we are seeing an increased engagement by the users on the news sites. As a result, publishers are taking advantage of the situation by increasing their number of newsletter subscribers. Not only the website traffic but the reduced ad rates on social media platforms are also helping them.
Condé Nast's

saw

a 100% growth in subscribers during March, 50% of which came from paid efforts.

In the first half of April, the cost of acquiring new subscribers dropped from 75 cents to 25 cents.
Takeaway:
Newsletter subscribers can become returning visitors to your website. In this way, the lifetime value of subscribers surpasses the acquisition value, hence the investment on subscription campaigns turns into profit in the long run. Leverage the increased interest in business and finance content to acquire the audience as well as for monetizing your site. 
Apple Might Take Another Shot at Mobile Ads
Apple has been observed making changes to its app development guidelines and Search Ads Campaign Management APIs to bring new opportunities to show ads. Developers will now be able to share marketing messages through push notifications and advertise through new owned-and-operated channels other than the App Store. 
Apple Search Ads partners may be able to use new ad formats as well as new supply sources. The ability to show ads in Apple News is also being considered as a possibility.
Earlier, app publishers were not allowed to send marketing-based messages through push notifications. It can bring new monetization opportunities to the publishers. Opening up the supply side may also help app publishers with better revenue. But since there has been no concrete evidence of Apple's motives, it is better not to speculate. If you are a publisher with apps on the App Store then you should explore the push notifications relaxation and see whether you can leverage it.
The Consortium Coverage
As the publishing industry is facing losses due to the COVID-19 crisis, local publishers are joining forces to fight back. News publishers are collectively creating and promoting COVID-19 content. The trend can be seen across the states, be it Colorado, Oregon, New Hampshire, Florida, California, or Pennsylvania.
The coverage and content plans are being shared among the groups via various tools like Google Drive, Slack, and Story Share. The move is helping news publishers in avoiding duplicate coverage, diversifying own coverage, and covering news with different angles. The publishers are also cross-promoting each other's content to increase their reach.
Takeaway:
Sharing the resources collectively can reduce the financial burden by cutting down redundancies. Currently, the news industry is already facing a lot of pressure due to decreased ad spends and increased keyword blacklisting. Such a move should be appreciated as it can save smaller publishing outlets from going out of resources. If you are a news publisher then consider joining such initiatives in your area.
Moments That Matter
Calculate your runway period during the crisis – Crisis Runway Calculator.
Criteo Suffers $24 Million Hit Due to Covid-19 as Q1 Revenue Tumbles 10% – Adweek.
Publishers are changing their sales teams to forge fewer, bigger client relationships – Digiday.
Publishers use advertising downturn to perform programmatic housekeeping – Digiday.