Expansion Amid Crisis
The pandemic has created problems for traditional publishers but it has also proved itself to be an opportunity for some publishers. In the past weeks, we saw how Patch Media benefited from the outbreak and how Axios is leveraging the current situation for its news app. The trend continues as publishers are witnessing the strength of hyperlocal news.
Two news companies are expanding their local news businesses amid the pandemic. McClatchy is launching "The Longmont Leader" for Longmont, Colorado. The project is backed by the funding provided by Google. 6AM City is expanding with a major outlet in Atlanta.
Local news, to some extent, has shown immunity to keyword blacklisting in the recent past. It also enables publishers to have close partnerships with local businesses. The market has not been extensively covered by large news agencies and therefore smaller publishers face lesser competition here.
Takeaway:
In the current scenario, diversification is the key – be it revenue or content. Publishers should keep looking for novel ways to improve revenue streams. When most publishers are struggling to find direct deals, local publishers are partnering with local businesses. 
The Trade Desk Narrows Down the Supply Path
The Trade Desk has been working on Supply Path Optimization for a long time. Recently, it has been contacting SSPs and other adtech companies for the same cause. It has requested the supply side to choose a single path to premium ad inventory.
Why?
In the programmatic environment, bidders face the problem of bid duplication. When a publisher auctions the same inventory through multiple demand partners, then the same inventory reaches in front of the buyers through multiple routes. When the buyers do not know that these multiple routes reach the same inventory, they end up placing multiple bids for the same impression. As a result, the buyers pay more than the required amount for showing ads.
Besides, Demand-Side Platform (for instance, The Trade Desk) has to process excessive queries (termed as "QPS") that leads to increased operational cost and decreased efficiency. 
How it affects publishers?
SPO cannot be avoided in the future. It is the need of the hour. Considering the current situation, the move will hit harder than it would. Despite the fact that the absence of optimized paths is inefficient, publishers tend to see higher ad rates. But after the implementation of the request, the demand from The Trade Desk will likely yield lower revenue to the publishers. 
Note that a single DSP decided to cut down the supply path won't affect the overall competition. 
Takeaway:
If the demand from the Trade Desk is minuscule on your site, then you shouldn't worry about it. The industry is moving towards SPO and you cannot avoid it. On the other hand, The Trade Desk might end up losing supply to some valuable impressions as resellers can indeed give access to mid-sized publishers with an engaged audience. 
Want to receive the latest adtech updates every week, just sign up for our adtech weekly roundup.
Can Affiliate Revenue Save Publishers?
Future Publishing has generated more than a million e-commerce transactions after it changed its content strategy in the past 6 weeks. The number of transactions has increased by 59% when compared to the previous month. The publisher operates sites across niches like tech, gaming, homeware, etc. People working from home are buying more software, pushing the transactions up by 172%. Gaming and hardware increased by 135%, home and garden transactions doubled and other tech increased by 82%.
But how much can you rely on e-commerce? This is a question worth asking right now. Earlier, we saw Amazon winding up its partnership with affiliate networks as a measure to minimize the commission expenditure. Now, Amazon has slashed its commission rates in Amazon Associate Program as well. 
"The changes are drastic and painful: Commissions on commerce staples including headphones, beauty products and business supplies had been cut in half, from 6% to 3%; commissions on home products, a fast-growing category with so many people now sheltered in place, had been cut by nearly two thirds, from 8% to 3%; commissions on health and personal care products, another major growth area, fell from 4.5% to 1%."
– Digiday.
How it affects publishers?
Publishers have already lost Amazon as their source of revenue from the affiliate network route. Now the revenue from Amazon may fall further after reduced rates. Considering the fact that Amazon runs one of the biggest affiliate programs in the industry, other affiliate programs may follow Amazon's suit. So publishers can expect more bad news in the future.
Takeaway:
Businesses keep finding ways to strengthen their positions in the market. Amazon is doing the same by cutting its cost. Over-reliance on a single platform may prove to be dangerous in such situations. A few years back, publishers relying on Facebook for traffic faced a similar hit. 
Consumer Perspective towards Data Collection
Digital Content Next has released a survey that shows consumers' perspectives and expectations towards websites collecting their data. More than 50% of the users expect websites and apps to collect their data for protection against fraud, for website/app improvements, identifying paid subscribers. 49% expect websites to collect data for a personalized experience. But only 32% of them expect websites and apps to collect data to be shared with outside vendors.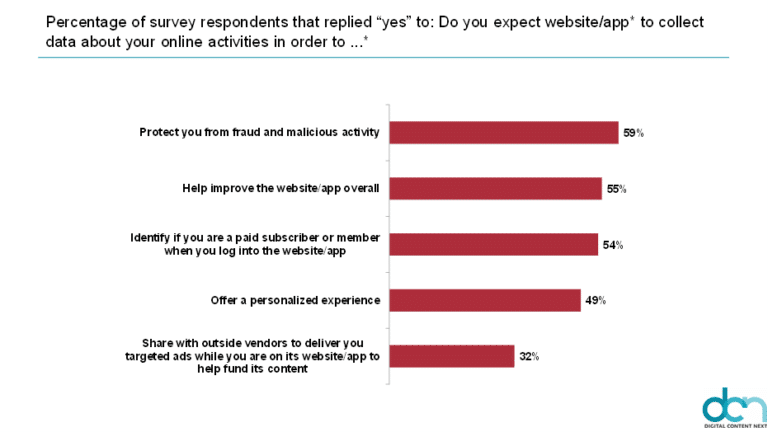 But after a clear explanation about how the data would be used by the third-party vendors, 47% of the users' expectations aligned with the practice.
Almost half of the US adults are not aware of the ways to opt-out of data collection, many of them are not even aware of what "opt-out" means.
Takeaway:
Most of the users are living in the dark. Forget about opting-out, many of them aren't even aware of their rights. If so much unawareness will prevail among the users, it is natural for them to be skeptical about data collection. Publishers should acknowledge this lack of understanding and take measures to explain its necessity to the users. If you can convey the usefulness of data collection, why would users deny providing it?
Moments that Matter
Guardian US CEO Evelyn Webster forecasts profit 'even in the most dire scenario – Digiday.
Australia Forces Google and Facebook to Ad Share Revenue – ExchangeWire.
More than 50 Sites Sign on to The Washington Post's Ad Tech – Adweek.
To prop up local advertisers, newspapers help small businesses sell gift cards – Digiday.