The COVID-19 Crisis
The pandemic has continued to challenge the entire adtech industry. Even tech giants like Twitter and Facebook are struggling with monetization. Predictions related to the changes in consumer behavior are pointing towards a longer battle than expected for the industry. There have been some efforts to mitigate the damages caused by the virus, but only time will tell what worked and what did not. Here are the latest updates:
Changing perception towards COVID-19 content:
GumGum recently studied more than 3 million unique pages that contained COVID-19 related keywords ("covid", "covid19″, "covid-19", "covid 19″, "coronavirus", "corona virus", "pandemic", "quarantine"), and concluded that over 62% of these pages were brand-safe. The data was collected from the GumGum publisher network for a period of two weeks between late March and early April.
Image Source – GumGum
GumGum's CEO says that not only publishers but brands are also hurting themselves through keyword blacklisting by limiting their reach. Alternatively, brands should target content categories instead of keywords for an effective reach.
"Coronavirus is touching every facet of society, so it's hardly surprising that even the most innocuous content references it. Keyword blocking just goes way too far, which is why people are calling for whitelisting of specific websites."
– Ken Weiner, Chief Technology Officer, GumGum.
In a similar effort, Verizon Media conducted a poll to understand the user perception towards ads next to COVID-19 content. The findings of the poll suggest that 77% of the users have no impact on their feelings about the brand or makes them feel favorably toward it.
What about tech giants?
Tech giants Twitter and Facebook are also under pressure due to the crisis. eMarketer's analysis says that Twitter can expect a revenue decline in the range of 9% and 40% during the month of March. On the other hand, Facebook will not be able to capitalize on the increased engagements because properties like Whatsapp are not monetized at all.
How did covid-19 change online consumer behavior?
Most of the businesses are facing a hard time due to the pandemic. As a result, a lot of people have either lost their jobs or are expecting layoffs and salary cuts. The fear of less income in the future is making consumers cautious of their spendings. A survey of 857 people about their monetary spendings over the next 6 months found that:
49% of respondents plan to delay travel

44% of respondents plan to delay medical or dental procedures

24% of respondents plan to delay home improvements or repairs

24% of respondents plan to delay large purchases

12% of respondents plan to delay car repairs
Such responses from consumers signal towards a lethargic growth for businesses even if the pandemic is dealt with. Less business can translate to lesser ad spends and therefore lesser revenue for publishers.
Some positive effects:
While we are seeing increased traffic and high membership signups, ContentInsights says that the pandemic has also increased reader loyalty among the users. The analytics solutions provider defines loyal readers as those who are habitually highly engaged readers. Reader Loyalty is based on recency, frequency, and returning visitors. The bottom line is – your loyal readers are more likely to pay you rather than your non-loyal readers. 
ContentInsight studied data from 15 European news publishers between Jan-Feb and Feb-March. The findings suggest that while some media groups were able to grow their loyal readers by 10 to 15 times, the average growth for all publishers was 29%.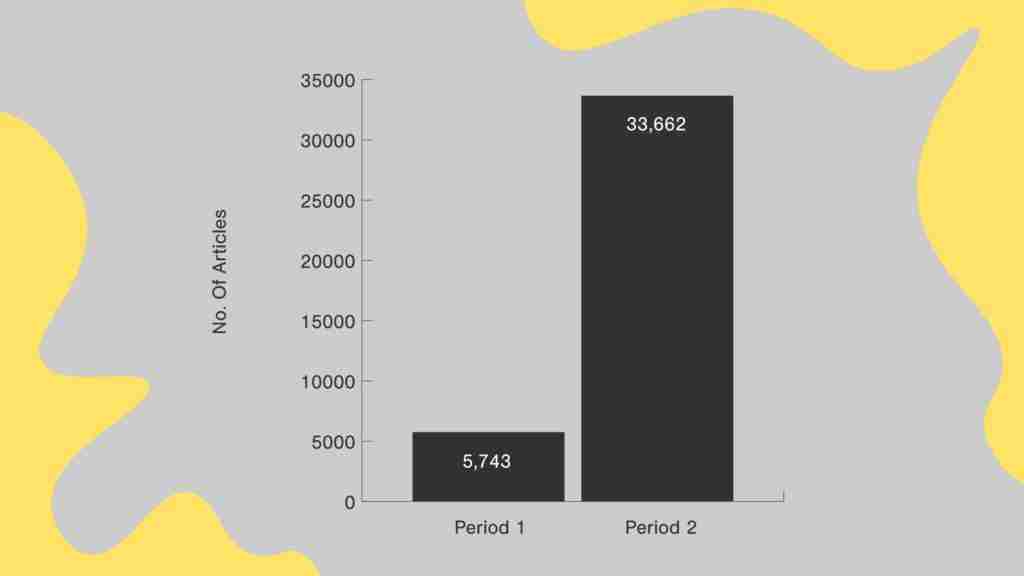 Image source – ContentInsight
Another positive outcome was found by Adomik which suggests that advertisers who are bidding currently are getting better ROAS than usual. If the trend persists, then it will be safe to assume that the revenue will keep coming from such advertisers.
"Even in cases where ecommerce conversions are down, the drop in CPMs and competition right now means the ROAS is still healthy,"
-Ian Trider, Director of RTB Platform, Centro
Takeaway:
The industry is constantly working against blacklisting COVID-19 related keywords, something will definitely come out of these efforts. Almost everyone is suffering from the pandemic, not even the biggest players are safe. The changing consumer behavior is surely a matter of concern but publishers should not shy away from leveraging the positive aspects of it. Instead, they should look for advertising options on content categories such as household items, gaming software, and other verticals which are gaining more demand due to social-distancing.
Dealing with the crisis
As the crisis is becoming bigger every day, publishers are trying to find ways to deal with it. Digiday reports that some publishers are shifting their focus to smaller advertising deals. Instead of spending time in converting premium deals, smaller deals can be an option for quick revenue. Other publishers can be seen giving discounts to bring in more demand.
Meredith has come up with an offer that guarantees advertisers with business outcomes like product purchases and website visits. Mid-sized news publishers are licensing content portals like MSN and Yahoo to diversify revenue streams. Some publishers are also trying to entice advertisers by pooling their inventories together and proving a bigger scale.
Google's fee relief for news publishers:
Google has announced that it will waive off the ad serving fee for news publishers. The fees will be waived off globally all over the world. The waiver tenure is five months. The publishers that are eligible for the waiver will be notified by Google. The initiative is being taken in the wake of the COVID-19 crisis.
"With these efforts, we aim to help news organizations reduce some of the cost of managing their businesses and funding important journalism during this time."
-Google
Earlier this week, Google announced a Journalism Emergency Relief Fund globally and opened it for the news organizations that are producing original news for local communities during the crisis. Publishers everywhere can apply for funds via an application form. On the other hand, Facebook also took a similar initiative where it has invested $100 million to support online news publishers a month ago.
"Q for Publishers" available for free:
Quantcast, the company that provides analytics tool "Q for Publishers", is providing 90-day free access to help publishers make their monetization process more effective. Q for Publishers is used by various leading publishers including BuzzFeed and Forbes and helps in getting insights into the audiences. 
"At Quantcast, we know that publishers power the open internet and we're committed to powering them with the data and tools they need to grow their business."
Takeaway:
Publishers should keep learning from the industry. Stay informed about how other publishers are dealing with the situation and emulate the strategies wherever they are relevant. If you can make use of the support being provided in the industry, then you should leverage it.
Formal complaint against Google for GDPR violations
Privacy-focused browser Brave has filed a complaint against Google once again. This time the complaint is about infringing the "purpose limitation" principle of GDPR. Article 5(1)b of GDPR talks about the "purpose limitation" principle that limits data collectors to use the collected data only for the purpose it was collected for. Brave says that it has evidence of Google not following the principle.
According to the blog published by Brave, Google collects data from its products like YouTube, Gmail, and other Google products used across the internet. This data is then used across its business, which is not legal. Additionally, it claims that Google uses vaguely defined purposes with no meaning or limit. It makes it easy for Google to use the data for all its business.
This is not the first time when Brave has complained about Google. Brave did something similar in 2018 as well. Additionally, Google was also fined €50 million in 2019.
Moments That Matter
Condé Nast plans hundreds of layoffs – Digiday
Giving Fraudsters the Cold Shoulder: Inside the Largest Connected TV Bot Attack – WhiteOps
Amazon changes teach publishers – again – platform dependence is risky- Digiday