Google to Allow Audience Buying via Ads Data Hub
Last year, Google restricted advertisers from accessing DoubleClick IDs and pushed Ads Data Hub (ADH) as a workaround. Google's Ads Data Hub is a data clean room that enables advertisers to perform cross-device measurement, analysis, attribution of ad campaigns — with the help of Google IDs. 
Google IDs are far more accurate than DoubleClick IDs, but the problem was that the advertisers couldn't transfer anything out of Google's system. All forms of analysis should be done within the system and first-party CRM data can be onboard to draw inferences and conclusions as well. 
"Ads Data Hub gives advertisers or their preferred measurement partners access to detailed, impression-level data about their media campaigns across devices in a secure, privacy-safe environment."
– Google. 
Though ADH is developed to serve analytical and measurement needs, as per AdExchanger, Google is testing audience activation for the past 6 months. The beta program includes large brands and agencies and it is now open to selected ADH power users (clients). 
Audience Activation: 
And, as expected, Google DV360 is the only DSP that's been connected to ADH to run campaigns. As of now, clients can buy impressions from the open web, but not YouTube or Google Search.
Using ADH, advertisers can create segments based on their first-party data (CRM) and Google's identity graph. ADH works well with brands with large first-party data sets hosted on Google Cloud. Typically, the first-party data from the advertisers are synced with Google's data set, which in turn, strengthens the audience data. 
"You're creating segments within the platform that are ideal for targeting" 
Privacy and Targeting:
Because of privacy concerns, buyers can't target users individually — audiences are targeted based on segments. One, this means, Google can power better targeting than the rest of the DSPs via ADH and two, frequency capping would be accurate as ADH uses Google IDs, not cookies (DoubleClick IDs). 
Takeaway: 
"DV360 is the only DSP I expect ADH will ever integrate with. If exposing cookie-based IDs outside the walls is a nonstarter, Google certainly isn't going to let other DSPs traffic campaigns informed by logged-in user data."
Agencies and brands believe that Google isn't going to let other DSPs activate and run ad campaigns via ADH. And, it makes sense. But this also means, Google will further solidify its market share. For publishers, it might be useful as better audience segments will lead to better revenue. 
Publishers are Facing Affiliate Fee Cuts
As advertisers are cutting down the ad budget, programmatic CPMs are beginning to drop lately. So, publishers are trying to see how they can maximize their revenues from other sources, especially, affiliate ads.
But it isn't working. Though publishers including The New York Times' Wirecutter and Future have seen traffic uplift to commerce content, the revenue didn't increase as expected. 
Why? 
a. Retailers and merchants are reducing the commission rates zero for products in demand, for instance, cleaning materials.
b. Certain verticals including travel, events, and real estate are seeing decreased clicks and purchases. 
"We have been asked by Tesco, for example, to stop sending people to its online services because it understandably can't keep up with demand. We are seeing high demand for content on working from home and required technology, and these often include product recommendations. External computer screens, printers and webcams are going out of stock fast."
– Simon Jary, SVP Consumer Worldwide, International Data Group
c. Brands and some retailers are adjusting their affiliate advertising based on the trend. As more and more people are working from home every passing day, they've brought down the affiliate push on the products that could sell themselves.
"Unless you have a very real threat of being able to send that consumer to another merchant, merchants will always have an incentive to behave in their own best interests. We built [the tool] to keep everybody's feet to the fire."
–  Walter Knapp, CEO, Sovrn.
The Other Side:
That doesn't mean all the categories are being hit. In programmatic, some categories including Auto (surprisingly, Auto industry is increasing the spend as they believe they can convert when the crisis is over), Technology & Computing, Hobbies, and Education are seeing an increased ad spend. Similarly, affiliate, commission rates for online education, food ordering, etc. are increasing. 
According to MediaRader, e-commerce ad spending jumped from $4.8 million the week of Feb. 17 to $9.6 million the week of Mar. 9. Sovrn says the daily commerce clicks have increased by 25% and verticals like fashion, home office equipment, etc. have seen an uplift. 
Takeaway: 
Adapt to the change. We can't expect that the situation will turn back to normal anytime soon. First, ensure you are in the best possible setup to maximize eCPM. Second, see if you can leverage the rising categories via direct deals, affiliate ads, and PMP setup.
Want to receive the latest adtech updates every week, just sign up for our adtech weekly roundup.
Corona Fallout
Last week we discussed how the COVID-19 pandemic is affecting the adtech industry and the reasons behind increasing traffic and falling CPMs. This week, we will discuss some more trends and predictions amid the rapidly evolving situation. 
Increased interest in performance campaigns
While most of the world population remains indoor, there are lesser chances for the ads to convert. Since the probability of the ads to perform well is lower, it can be expected that the advertiser can lean towards performance-based campaigns. In performance-based campaigns, the marketer pays when a user performs a desired action.
"Programmatic pricing is down an average of 10 to 20% globally, CPVs are declining week-over-week and performance campaigns are on the increase – today's buyers are now more loyal to price than brand"
– Justin Taylor (Teads, UK).
Increased competition among publishers
The traffic is going up for most of the publishers but the buyers are spending less. With more inventory and lesser buyers, the publishers are expected to decrease the floor prices. In such a scenario, the publishers that want to sell the inventory with a predetermined floor price will be forced to reduce the floor price further.
"The exec wants to stick to a minimum price for those ads bought in real-time auctions but is finding it hard to enforce when their rivals are lowering their own floor prices to attract demand."
– A publisher to Digiday.
The quarter effect
We are at the end of the first quarter of 2020. The businesses are spending their quarterly ad budgets before it ends. But once the new quarter begins, the spenders may choose to sit and wait for the situation to ease before shelling out money from their wallets. Therefore publishers can expect a slow second quarter
"My concern is that what upticks there are in spend now could be the last bit of spend for the quarter being washed through the system."
– Bill Swanson (Telaria)
Takeaway: 
Almost all the current signs are pointing towards a difficult time for publishers. However, the situation will not remain the same forever. As the pandemic comes under control, you can expect your revenue to rise. By the time try these strategies to mitigate the impact on your ad revenue. 
Keyword Blacklisting
So we have been talking about how keyword blacklisting is taking away a huge chunk of publishers' revenue during the coronavirus pandemic. Now Buzzfeed has come up with specific numbers so that we can figure out exactly how big the problem is.
Here are the key findings:
A global brand blocked more than 2 million ads in the first 3 weeks of March. These ads were blocked on premium sites — The New York Times, CNN, USA Today, and The Washington Post. When we talk about all the 100+ news sites where the brand advertised, this brand blocked ads more than 35 million times.
Premium sites like Der Spiegel, the Guardian, Canada's Global News, and BuzzFeed News are part of the list. According to the report, one of the Fortune 50 companies spends around $3 million a month on advertising its products on the news sites.
Integral Ad Science helps the brand in blocking ads. 36% of the ads that the brand tried to place on the New York Times' websites were blocked. Similarly, 34% of the ads were blocked on USA Today's websites, 45% on Washington Post and 29% on CNN's websites.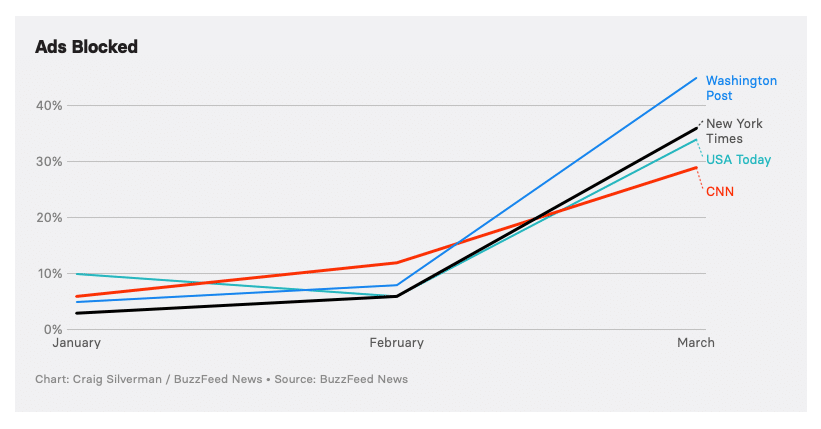 Additionally, The Guardian saw 50% of the ads blocked from the brand, Der Spiegel also saw 50% block rate, 70% of Canada's Global News, 55% of Business Insider and 56% of Buzzfeed News inventory was blocked.
Meanwhile, the publisher trade body – Digital Content Next sent an open letter to the third-party ad verification industry requesting them to ease the COVID-19 filters for premium publishers.
Takeaway:
If the current state of keyword blacklisting continues then it will be harmful for both the publishers and the brands. It is the need of the hour to pay attention to the context, rather than just focusing on the keywords. We suggest you to allot some resources in creating non-coronavirus related content that can grab users' attention while they are reading about the pandemic. Alternatively, you can also leverage the increased traffic to build your subscriber list faster.
Moments that Matter
'We're looking at this as an opportunity': Bloomberg Media CEO Justin Smith's optimistic scenario for media's recovery – Digiday.
Coronavirus Ad Spend Impact: Buy-Side – IAB.
Why Google's decision to withhold programmatic data is pushing some advertisers to pull ad spending – Digiday.
Digiday Research: 88% of publishers say they will miss forecasts this year – Digiday.